Martha Reed, providing Spiritual Counseling, Life Coaching, Hypnotherapy, Intuitive Insights, Answers and Advice.
Spiritual Counseling and Intuitive Insights for Life can assist you with life transitions whether self-initiated or unexpected. By spiritual, I mean conscious awareness, which may include alternative belief systems, thinking outside the box or a holistic approach that integrates all of these. Spiritual enhancement may be looked upon as a connection to something external to the self, or as an internal experience, or both. I offer a compassionate, holistic approach assisting in clarifying issues, releasing blocks, expanding awareness, raising self-esteem and creating positive change.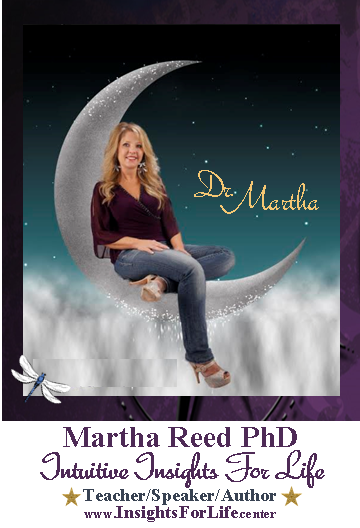 Learn how to access inner guidance and wisdom
Transform challenges into opportunities for growth
Turn negatives into positives and connect with your Higher Self
Spiritual counseling is designed as a partnership, working together to create the life you truly desire. Setting goals, expanding your belief system, and providing the support you need to move forward, using the wisdom within to transcend into the life you have manifested.
If you don't like something change it; if you can't change it, change the way you think about it." — Mary Englebreit
Schedule your coaching session with Martha today!
Coaching/Counseling Sessions
Sessions are generally 50 minutes to 1 hour in length. For your convenience, sessions are available in-office, via phone or video conferencing. One-on-one sessions and/or group sessions available. The number of sessions for success coaching depends on the situation and varies from person to person. Although one-session can promote great results, an individual may require one to four sessions per month for ultimate transformation.

Start achieving your goals today!
Every act, thought, and choice adds to the permanent mosaic: Our decisions ripple through the universe of consciousness to affect the lives of all. Every act or decision made that supports life, supports all life, including our own." — David R. Hawkins, MD, PhD, Truth vs. Falsehood, 2005
What are the results of working with a spiritual counselor/ life coach? The outcomes that clients most often attribute to their coaching are:
A higher level of self-awareness: 67.6%
Smarter goal-setting: 62.4%
A more balanced life: 60.5%
Lower stress levels: 57.1%
Self-discovery: 52.9%
More self-confidence: 52.4%
Improvement in quality of life: 43.3%
Enhanced communication skills: 39.5%
Project completion: 35.7%
Health or fitness improvement: 33.8%
Better relationships with boss or co-workers: 33.3%

Better family relationships: 33.3%
Increased energy: 31.9%
More fun: 31.9%
More income: 25.7%
Stopped a bad habit: 25.7%
Change in career: 24.3%
More free time: 22.9%
Increased profitability of business: 17.1%
Started new business: 12.9%
Empowered employees: 11.0%
When asked the value of the coaching investment, 98.5% of coaching clients said their investment in a coach was well worth the money. Excerpt from the International Coach Federation's (ICF) Client Survey. Copyright © 1997-2000 – International Coach Federation. The complete survey results are available on the International Coach Federation's website at www.coachfederation.org.
Don't wait until everything is just right. It will never be perfect. There will always be challenges, obstacles and less than perfect conditions. So what. Get started now. With each step you take, you will grow stronger and stronger, more and more skilled, more and more self-confident and more and more successful." — Mark Victor Hansen
Hope to see you soon,
♥ Martha Reed PhD
Your Psychic Medium, Spiritual Counselor, Hypnotherapist and Soul Coach