Martha Reed, your Psychic Medium and Counseling Alternative providing Hypnotherapy, Intuitive Insights, Answers and Advice.

From time to time, we need assistance finding answers or clarification, as we can't seem to get them for ourselves. On occasion, we need help understanding our relationships. Every now and then, we need a little direction and guidance when we feel afraid or stuck. Other times we need help in understanding our emotional or physical aches and pains or illness. Sometimes we need INSIGHTS into how we can heal from within. Often just seeing ourselves through someone else's eyes makes the biggest impact. Sometimes we need to connect to our guides and angels so we don't feel so alone. Other times we need words of hope and ways to find them. This is why people sometimes come to me a psychic medium, for Intuitive Coaching, Hypnotherapy or Spiritual Guidance. Psychic Readings, Psychic Mediumship and/or Intuitive Readings.
My passion is to assist others in overcoming fears and limiting behaviors that have them feeling unsuccessful, unfulfilled, unloved and downright out of balance. I provide insights and understanding of how one's personality, emotional and spiritual energy can lie at the root of the hurting and imbalance. Using my gift as an empath, with clear knowing, I am able to help uncover blocks and barriers that have kept one chained to the pain and kept one from reaching their full potential of health, success, and happiness. If you're searching for answers and insights for moving the blocks and barriers that are dimming your light and casting shadows in your life, I can take you inward with guidance, support, and visionary insight, healing mentally, emotionally, physically, and spiritually. I invite you to spend an hour with me. I believe you'll find it uplifting, hopeful, thought-provoking, insightful, and life-changing.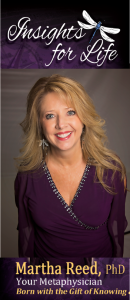 Spiritual Advising and Intuitive Readings with Psychic Medium Martha Reed (may also include Angel Cards, Oracle Cards) Psychic Readings
30 Minute Reading ~ In Office, Phone and Video Conferencing
60 Minute Readings ~ In Office, Phone and Video Conferencing
Toe Readings with Dr. Martha
Toes reveal how a person copes with their feelings, as well as their thoughts. The position and shape of your
toes can change according to events in your life. A toe reading is a great place to begin to unlock the mysteries of your life. There is more going on in the world, and specifically YOUR world, than meets the eye. And, it may just be your toes that reveal the most. What will your toes tell about you?
30 Minute Toe Reading ~ In Office 
60 Minute Toe Readings/With Spiritual Coaching ~ In Office 
*** Book Dr. Martha for: Group Events, Home Parties, Corporate Events, Speaking engagements
If you have a private group of 8 or more people and would like to inquire about hosting a Toe Reading Party, Intuitive Readings, Weight Management Program or a Hypnosis Program at your home or facility, please email us at [email protected]
Hope to see you soon,
♥ Martha Reed PhD
Martha Reed, your Psychic Medium and Counseling Alternative providing Hypnotherapy, Intuitive Insights, Answers and Advice. Psychic Reading